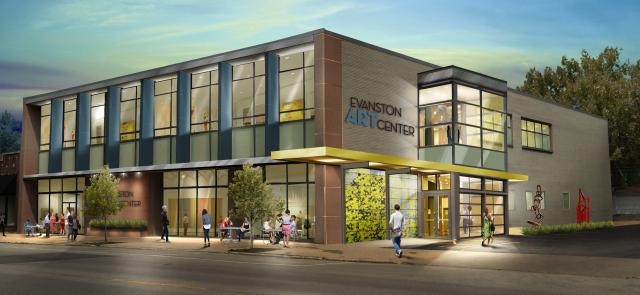 There are exciting things happening in Evanston. The 
Evanston Art Center (EAC)
 is moving to its new location soon. Founded back in early 1930, EAC has been always dedicated to fostering the appreciation and expression of the arts amongst diverse audiences by believing in the power of art to inspire, amaze and enrich.  EAC offers extensive and innovative instruction in board areas of artistic endeavor through various classes, exhibition, art activities and community outreach.
It is an honor to have my artwork selected for the opening ceremony of EAC to celebrate their new location. The selection process was curated by the one and only 
Sergio Gomez
 who is a s a Chicago-based visual artist and creative entrepreneur. He is also the Director of Exhibitions at the 
Zhou B. Art Center
.  I can not describe how I felt when I found out my name is within the artists handpicked by him for this special event.  The name of the exhibit is "Hybrid's Paradise" so prepare yourselves to experience amazing artwork around this theme. Being part of this amazing group of artists is an absolute honor.
For this exhibition I'm creating something very different; an Art installation. It is challenging yet exciting as I believe it's necessary for artists to come out of their comfort zones once in a while. The opening ceremony is approaching so it needs a lot of hard work.... but surely will be rewarding. Stay tuned as I will update you on the process of my installation. For now just remember #Whisperingwalls
I can not wait to celebrate the new location of EAC with you all. Mark your calendars, tell your friends and those who are interested and come join us at this amazing new location.
Date & Time: Sunday, June 14th 2015 - From 1-4 pm
Location : 1717 Central Street, Evanston
The official invitation will be shared soon as well. Hope to see you all there.
Follow my news and updates on FaceBook , Instagram and Twitter.